Share favorites between multiple computers
Share favorites between multiple computers
At home, in the Office, on the move: you use multiple computers to access the Internet. You have your habits with your favorite browser and a big list of favorites you want to find on all your computers. Learn how to synchronize your bookmarks between all your computers to access them from anywhere and constantly having an updated list. Chrome and Firefox have a built-in tool to find your Favorites on different computers that you use through the use of a free account online (Gmail for Chrome, Sync for Firefox). With Internet Explorer, this is a bit more complicated because there are function integrated to the synchronization of bookmarks between multiple computers. Nevertheless, there is a solution through the Dropbox program that allows to share files between multiple computers. By moving your Favorites on your Dropbox and by configuring your computer to use as a Favorites folder, Favorites will be accessible from the computers that you use.
With Chrome With Google Chrome and your Google account, you can store your bookmarks online and share them between several computers with Internet access.
In Chrome, click Customize and control Google Chrome.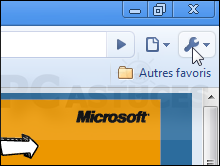 Click synchronize my bookmarks.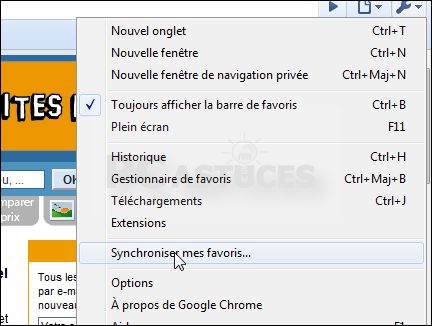 Enter the user name and the password of your Google account and click connect.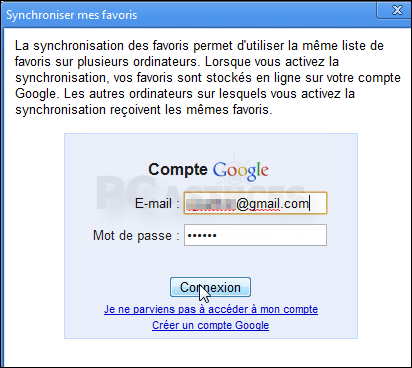 Your favorites are now synchronized with your Google account.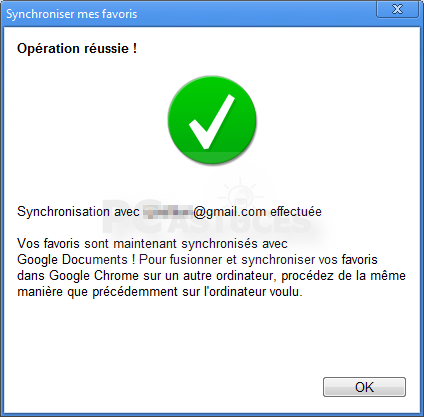 Repeat on your other computers with Chrome: they will all share the same list of favorites.

You can add or remove: the changes are applied to all of your computers.
With Internet Explorer Internet Explorer does not function to synchronize its bookmarks between multiple computers. No matter, with Dropbox, it is possible. Remember that Dropbox is a storage space that you can easily share between multiple computersonline. By moving the system from the Internet Explorer Favorites folder in your Dropbox, all other computers linked to your Dropbox can also access your Favorites. To learn more about Dropbox, do not hesitate to consult our file: access its files from anywhere.
Open your Dropbox by double clicking on its shortcut on the desktop or in the taskbar.
Create a new Favoritesfolder and close the window.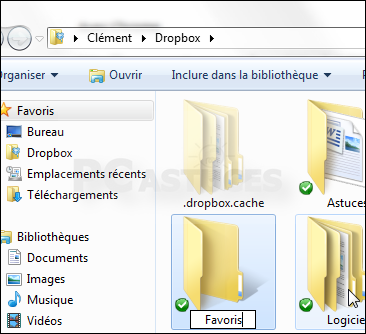 Click the Start button, and then click computer(my computer in Windows XP).
Open the c: drive.

Then open the users folder.
Then open the folder with your user name.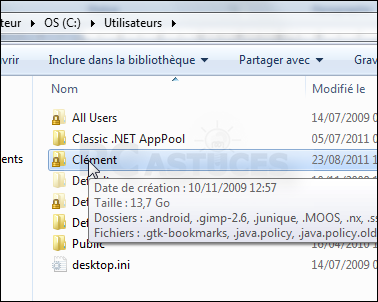 Click with the right button of the mouse on the Favorites folder and click on Properties.

Open the location tab.

Click on the move button.

Select the folder Favorites that you have created in your Dropbox and click Select folder.

Click apply.

In the window that appears, click Yesto copy your existing Favorites to new Favorites to your Dropbox folder.

Finally click OK.

Then try again on your other computers by pointing Internet Explorer Favorites folder to the Favorites of your Dropbox folder.

All your computers use so now the same Favorites and you can therefore find on Internet Explorer from all your computers linked to your Dropbox.

Whenever you add, move, or delete a Favorites, the change is reflected on your other computers.
With Firefox With Firefox, you can synchronize your bookmarks between multiple computers and thus keep under the elbow all your favorite sites wherever you are.
In Firefox, click on the button at the top left of the browser and then click set up sync.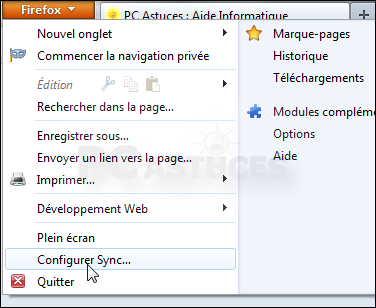 Click create a new account.

Click the Sync Options button.

Give an explicit name to this computer and select the checkboxes before items to synchronize.

Click Finish.

Enter your e-mail address, choose a password, agree to the terms of use and click Next.

Firefox generates your key synchronization.

Write it down or click Save to save it in HTML format. Click Next.

Enter the words that appear to prove that you are not a robot and click Next.

Finally click Finish.

On the other computers where you use Firefox, click on the button at the top left of the browser and then click set up sync.

Click on connect.

Click I do not the device with me.

Enter your email address, your password and sync your Firefox sync account key and that you noted previously.

Click Next.

Finally click Finish.

Your bookmarks are now synchronized between your computers.

Click on the Firefox button click Synchronize nowto force the update.