CREATE FTP SERVER
Have a personal ftp server to share Internet folder on its hard disk (or more) with different people that it is possible to define.
IMPORTANT: If I explain how to create an ftp server, is not to encourage the piracy, but to allow friends to Exchange personal documents.
CREATE A SERVER WITH FTPSERVEUR 0.95
I seen proposing to create a ftp server with the freeware FTP server (version 0.95). It is very easy to use and after reading these pages, you will be able to create a personal ftp server running.
The first step is of course the download of ftp server. (the proposed version is the French version). The installation does not pose no difficulty, since there is not! Indeed, simply unzip ftp server and click on ftpserveur.exe to run it.
The explanation is decomposed into two parties plus a third that allows to use its ftp server:
creating accounts for users of ftp server

General ftp server options

use of the ftp server >> know its ip address >> have a domain name
Creating accounts for users on the server
At the launch of ftp server, this window appears:
This is the main window. Will be here when the server is being used for information about the persons who are connected to your server: their login, which folder they are, what they are trying to download, upload...
First, we will define user accounts. Each account is a person that pourra access to your ftp server. Clickr on Setup > > > User .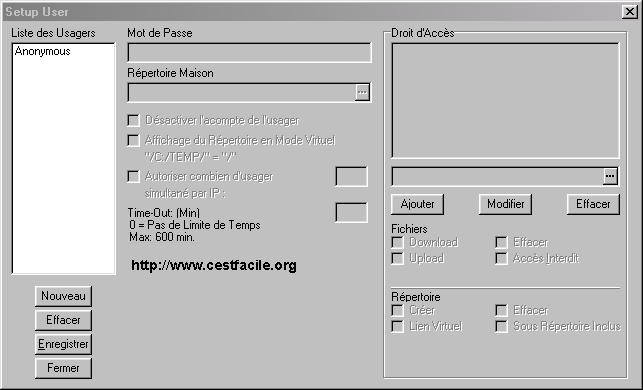 In this window that the user accounts will be created. Click on the button new :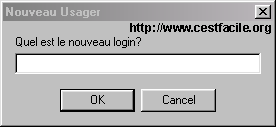 Enter a name for a person who will have access to your ftp server in this window (this is the login). This name is entered in the list of users on the left of the window. Now the login is created, it must assign a password and subsequently define the rights that will have this person on your ftp server (right to download, upload, delete files, create folders...). To do this, you must click the login.
Then, in the home directory box, enter the path of the folder you want to share (by clicking the three-point suspension). You must add this home directory so that it appears in the box right of access. Do the same and click Add. Select the folder that was added.
The boxes located below are more shaded. It is here that it is determined the rights for a login. First rights on the files, and then the rights records. The legend of the different check boxes is very explicit. For example, if you check the download, the person will be able to download the files located inside the folder, if you click on upload, it will be able to upload files within that folder. It is possible to tick several boxes.
But be careful: If this folder contains subfolders, the subfolders will not automatically be taken into account. The box must be checked Under Directory included and click on record.
With this way of taking account of the subfolders, it is not possible to set different rights depending on the subfolders: user rights will be the same in each of the subfolders.
If you don't want to give the same rights to all subfolders, need to add all subfolders manually concerned. This can for example be the case if you want users only upload in the subfolder uploads.
In the box right of access must be subfolders of your home folder that you want to add with the login that is selected. To indicate the path of a subfolder, click on the three dots (in the same way that the home directory has been set). Once the path to the subfolder appeared, to click on Add . You can define several subfolders in the same way.
Now that the subfolders are added, should be given the rights that you want for each of the added subfolders.
Be especially sure to click on the button Save otherwise, need to start all over again! (Registration is not automatic)
General ftp server options
Now accounts are created, look a little ftp server options. From the main window's ftp server, click Setup > > > FTP . The following window appears: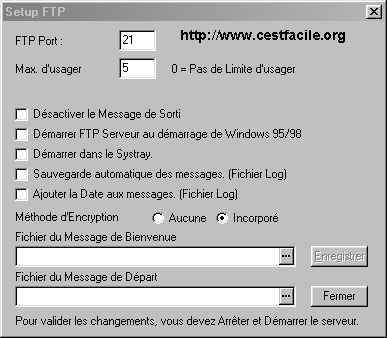 The FTP Port box indicates the port used by the server (if it does not alter this is port 21). If you have a firewall (firewall), should leave open port 21 for ftp server works. (Just to allow the program to access the internet with zonealarm).
Then a maximum of user box indicates the maximum number of concurrent users on the server. By default, the value is 5. Persons who are connected to your server and which download files share your upload rate, so that they download in good condition, do not that there are many people downloading at the same time on your server.
Options with a check mark are common, they are found in a large number of software. You check the boxes you want to suit your work habits.
The method of Encryption, "Embedded" line is checked by default, no need to change it.
You can also display a message when users connect to your server (welcome message) or when ' they disconnect your server (message of departure). It should create a file in Notepad for each of those messages in order to indicate the path. (These messages are optional, the server works even if there is no message of welcome or departure)
Now, you now know how to create an ftp server.
Use of the ftp server
You must communicate to future users:
their login

their password

your ip address
If you have a domain name, it is not necessary to communicate your ip address; your server's ftp address is sufficient.
know its ip address
have a domain name
Once your future user will know these three information (login - password - domain name or ip address), it will be able to connect to your server. It can connect in two ways:
either by a software client ftp (click to see two clients ftp guides)

or directly via the web: in this case, it must return to its usual browser the address that has this form: FTP://login:motdepasse@adresseip:21
Replace "login" by your login, in our example it's Paul Replace "password" with your password, in our example it's password Replace "IP address" by your ip address, for example 121.114.84.46 The "21" included in the ftp address is not necessary, it corresponds to the port used by the ftp server.
Know his ip
The first two information are not hard to know since it is you who set them. Otherwise the ip address. It is not you who choose it but it is assigned to you by your ISP (provider of access to the Internet). If you are connecting with a modem, your ip address changes at each connection (this is a dynamic ip). If you connect the cable or ADSL, your ip address may remain the same during several days.
Here's how to know: windows 98 : Once you are connected, click on Start > > > run... In the window that opens, type winipcfg and click OK. A window appears in which you can read your ip address. It has the form 121.114.84.46 windows 2000, Me : click on Start > > > programs > > > Accessories > > > MS-DOS command (or command prompt). In the window that opens, type ipconfig and press ENTER.
under windows XP: Once you are connected, click on Start > > > run. Then, next to open: type the command CMD and then click OK. In the window that appears, type ipconfig, and then press ENTER.
It is also possible to use thefreeware ip2to know its ip address. Necessary if you connect behind a router or from a LAN. The author's website is: http://keir.net
Even faster: use this web site to get to know your ip address: http://adresseip.sur-la-toile.com/
Have a domain name for his personal ftp server
A solution that makes life easier !
You have noticed that you must communicate your ip address whenever someone wants to connect to your server. This is not an important constraint if people connect to your server rarely, but otherwise, this is particularly annoying.
There is a way to avoid this problem: by owning a domain name. You can have an address "in letters" that does not change everything with a dynamic ip or an ip that changes periodically.
Have a domain name for the ftp server is very convenient because users can connect to your server without needing to know your ip address.
Sites that offer it are dyndns.org, no - ip.com, dns2go.com (there are certainly others but I know only these three there).
the dns2go example
the example of no - ip
the dns2go example Please note : from October 1, 2002, dns2go offers more than a paid solution.
With dns2go, you will have an address of the form: ftp.nomquej'aichoisi.dns2go.com
I tried dns2go and the use of this service is very simple:
To register:
Click on Signup and then check the box "DNS2Go Domain Name" and click next. On the next page, enter the address that you want and click next. Complete the form, select the check box at the bottom of page "Yes, I agree to terms thesis ' (after reading the conditions of course) and click on the"Register Now!"button After the registration, it will take to download software (927 KB). It is this software that will allow to match your domain name to your ip address. After installing the software, it remains more a step so it runs: Go to the registration tab and fill in the domain name and registration key fields. This information was provided to you in the confirmation e-mail. There is only to copy. Once these fields are completed, the software connects to the internet and your domain name will work.
For example, if you have a domain name, you do more than to transmit to your future users, their login, password and ftp type address: ftp.nomdemonserveur.dns2go.com and that's it. No need to keep them informed of your ip address changes.
If users want to connect to your server with a Web browser, the address will have this form:FTP://login:motdepasse@nomduserveur:21